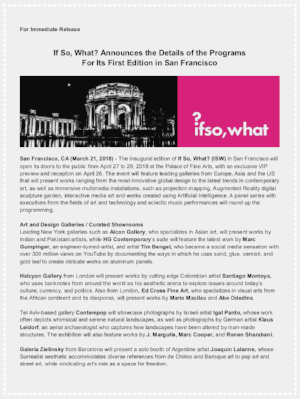 San Francisco, CA (March 21, 2018) - The inaugural edition of If So, What? (ISW) in San Francisco will open its doors to the public from April 27 to 29, 2018 at the Palace of Fine Arts, with an exclusive VIP preview and reception on April 26. The event will feature leading galleries from Europe, Asia and the US that will present works ranging from the most innovative global design to the latest trends in contemporary art, as well as immersive multimedia installations, such as projection mapping, Augmented Reality digital sculpture garden, interactive media art and works created using Artificial Intelligence. A panel series with executives from the fields of art and technology and eclectic music performances will round up the programming.
Art and Design Galleries / Curated Showrooms
Leading New York galleries such as Aicon Gallery, who specializes in Asian art, will present works by Indian and Pakistani artists, while HG Contemporary's suite will feature the latest work by Marc Gumpinger, an engineer-turned-artist, and artist Tim Bengel, who became a social media sensation with over 300 million views on YouTube by documenting the ways in which he uses sand, glue, varnish, and gold leaf to create intricate works on aluminum panels.
Halcyon Gallery from London will present works by cutting edge Colombian artist Santiago Montoya, who uses banknotes from around the world as his aesthetic arena to explore issues around today's culture, currency, and politics. Also from London, Ed Cross Fine Art, who specializes in visual arts from the African continent and its diasporas, will present works by Mario Macilau and Abe Odedina.
Tel Aviv-based gallery Contempop will showcase photographs by Israeli artist Igal Pardo, whose work often depicts whimsical and serene natural landscapes, as well as photographs by German artist Klaus Leidorf, an aerial archaeologist who captures how landscapes have been altered by man-made structures. The exhibition will also feature works by J. Margulis, Marc Cooper, and Ronen Sharabani.
Galería Zielinsky from Barcelona will present a solo booth of Argentine artist Joaquin Lalanne, whose Surrealist aesthetic accommodates diverse references from de Chirico and Baroque art to pop art and street art, while vindicating art's role as a space for freedom.
Several galleries from the West Coast will also participate in the inaugural edition of the show. Re.riddle, with spaces in San Francisco, London, and Paris, will present Pegan Brooke's interactive video projection installation, as well as Hongtao Zhou's Textscapes, previously exhibited at the Centre Pompidou, Paris, which conflates two-dimensional text and 3D object to simultaneously recaBARll the history of printmaking and contemporary innovations in 3D printing. Other West Coast galleries include Jaus Gallery, Chandra Cerrito Contemporary, and The McLoughlin Gallery.
Leading international design brands and galleries such as Puiforcat by Hermès, St. Louis, and Priveekollektie will bring exceptional collectible design pieces to the show. Alongside curated booths by art and design galleries, London-based art advising agency Carrie Scott & Partners will present a solo exhibition of the legendary fashion photographer Nick Knight, who has collaborated with renowned designers including John Galliano, Alexander McQueen, and Yohji Yamamoto, while New York-based independent curator and cultural producer Roya Khadjavi Projects will showcase a pavilion of works by 12 emerging Iranian artists, many of which explore the complex roles of women in contemporary society.
For the full list of exhibitors, please visit: https://www.ifsowhat.com/exhibitors.
Art x Technology Installations
Taking the art fair model to the next level, ISW will also showcase some of today's most cutting edge large-scale installations that merge art and technology. Renowned San Francisco technologist Mateusz 'Marpi' Marcinowski will present the Marpi Interactive Projection Installation, a new interactive media art installation driven by visitors' sensory movements. The project is based on his earlier Melting Wall project, which he created for FITC Amsterdam 2018, one of the most innovative art and tech conferences in the world. CreateAR will collaborate with LYNCHINI and C-fire to create the first-ever Augmented Reality Digital Sculpture Garden, featuring works by Corwin Bell, Fiona Tan, and Gabriel Dunne. The garden will be accessible via Microsoft Hololens as well as a smartphone app, and visitors will be able to purchase the sculptures using open-ledger blockchain crypto technology, setting a precedent for all future digital sculpture transactions.
Daata Editions will launch a new online project Queertopia, curated by Gemma Rolls-Bentley, Artsy Private Sales Lead and Gay Times Magazine Columnist and Curator. The project is a collection of works that reviews the existence of queer communities and their spaces, both real and mythological, memorializing those lost and building environments and landscapes to nurture new radical possibilities. Featured artists include Holly Blakey, Rindon Johnson, Zoe Marden, Rashaad Newsome, Hannah Quinlan + Rosie Hastings, Jacolby Satterwhite, and Puck Verkade. In addition, Daata Editions has invited three Virtual Reality projects to the fair: a project by San Francisco-based artist M Eifler (BlinkPopShift) titled Making the Bed (2017), and Virtual Reality Art presented by Khora Contemporary featuring the premiere of Nikita Shalenny's The Bridge (2017) as well as Paul McCarthy's C.S.S.C. Coach Stage Stage Coach VR experiment Mary and Eve (2017). Daata Editions will also collaborate with Label Dalbin and their Table.Video by streaming artworks through two custom-made tables at the Daata Editions space at the fair.
San Francisco-based art and technology projects and event organizers CODAME will present daily workshops with Jamaican-born interaction designer and artist Gary Boodhoo, in which participants will use Artificial Intelligence (AI) and machine learning technology to create artworks.
For the full list of projects, please visit: https://www.ifsowhat.com/multimedia-installations.
Global Panel Series
In addition to curated showrooms and large-scale multimedia installations, 15 keynotes and panel discussions that bring together art and technology will take place throughout the event. Two additional panels will be held prior to the event at one of San Francisco's most exclusive members clubs 'The Battery' on April 4 and April 24.
The panels will feature influencers from some of the world's leading tech companies, such as Satjiv S. Chahil, a Silicon Valley innovator and former Apple and HP Executive, who in the early 1990s founded Apple's New Media division and promoted technology as a tool for creative expression. "Now is the perfect time for a global art festival to be held in the San Francisco Bay Area", says Chahil. "Talents from around the world are introducing new platforms for creative expression in Silicon Valley, making it today's equivalent of Florence during the Renaissance."
Drew Bennett, Founder and Director of Facebook's Artist in Residence Program, will speak about he has transformed from an artist to a program Director and how this program shaped Facebook as a company. A panel discussion on the impact of art on the work environment of tech companies will feature speakers Steven Aldrich, CPO of GoDaddy, Maya Razon, Executive Development at Google, and Danielle Wohl, Art Advisor.
"If So, What? is going to foster discussions within the Silicon Valley community because so many people here work at the intersection of art, design, and technology. I was drawn to the initiative because of my passion for collecting glass art, the interactions I have with artist entrepreneurs, and the belief that more people can create and interact with art. In our offices at GoDaddy, we've brought art in to create discussions and we also have connected our employees with hands-on art experiences. We've done that because exposure broadens the range of creative influence from which our team members can pull ideas to help our 17 million customers bring their business ideas to life in the digital world … bringing our own innovation to life requires us to combine technology and design," comments Aldrich.
"Incredible power exists in the mashup of art, technology and learning. My work is at the intersection of brain science and human potential — applying insights from neuroaesthetics to enable innovation, spark creativity and increase self-awareness. By exploring uncharted approaches, Google aims to change the way we teach and engage our leaders in learning, and I am excited to be able to share our approach at If So, What," comments Razon.
Prominent leaders from academia and institutions will share their perspectives on the cultural development in Silicon Valley investing in art, such as Dr. Jay Xu, Director & CEO of the Asian Art Museum of San Francisco, Larry Rinder, Director of Berkeley Art Museum and Pacific Film Archive, Susan Sayre Batton, Oshman Executive Director of San José Museum of Art. Amanda Horn, Director of Communications at Nevada Museum of Art, will discuss the museum's collaboration with artist Trevor Paglen for his project Orbital Reflector, which will launch into space later this year a rocket owned by Elon Musks' SpaceX. Jennifer Raiser, author of Burning Man: Art on Fire and Treasurer of the Burning Man Project, will be in conversation with two artists from Burning Man to examine the drivers behind Silicon Valley's strong community-driven culture and art installations.
Jacob Pabst, CEO of Artnet, and Chris Vroom, CEO of CollectorIQ and Chairman of Artspace, will uncover the latest developments in the field of big data and the future of online platforms. Marcelo García Casil, CEO of Maecenas, the first Fine Art blockchain platform, Patrick Baron, CEO of Ambisafe, and Jess Houlgrave, Co-Founder and COO of the Codex Protocol, an art registry based on blockchain technology, will provide insights into the impacts of cryptocurrencies on society and art with Eleesa Dadiani, whose gallery is the first gallery in the world to accept multiple cryptocurrencies as payment for works of fine art. Irish art-crypto pioneer and conceptual artist Kevin Abosch will talk about the global hysteria over "Potato #345", as well as as a single Blockchain token sold for over $1M while shedding light on why and how we value things, from art to currency to human life - referring to his project 'I AM A COIN'
Latest, mind-blowing and shocking results on Art & Gender will be disclosed by Dr. Roman Kräussl, Professor of Art-Finance at the Hoover Institution at Stanford University and Julie Wainwright, CEO of The RealReal together with Sara Fitzmaurice, CEO of FITZ & CO will discuss why even in supposedly female areas, creative directors or board positions are still dominated by men and how we can change this.
"If So, What? provides a unique platform that combines Silicon Valley's expertise in technology with the love for art. To that end, this new initiative in the heart of San Francisco seems to be the perfect opportunity to bring together leaders in both industries. I myself focus on big data, Artificial Intelligence, and the valuation of art and am truly excited to be part of If So, What," says Kräussl.
Steffen Ganz, Senior Designer at Porsche Design Studio, and Olivier Pechou, VP Americas of St. Louis and Puiforcat, will explore the roles of art and design in industrial and product manufacturing, and Ajay Kapur, Associate Dean for Digital Arts at California Institute of Arts, will discuss Porsche Art Media Installation, the institution's new collaboration with the premier automobile luxury brand.
For the full list of talks and speakers, please visit: https://www.ifsowhat.com/speakers and https://www.ifsowhat.com/schedule for the schedule.
Music Program curated by San Jose Jazz
If So, What? will also present contemporary music performances curated and produced by San Jose Jazz (SJZ), a Silicon Valley-based non-profit celebrating jazz as a dynamic, evolving art form. The artists are part of SJZ's Jazz Beyond programming stream, which presents musicians at the nexus of soul, hip-hop, and jazz. The VIP Preview on Thursday, April 26 will kick off with DJs Chale Brown and The C.M.E., followed by headliner Photay (Evan Shornstein), who uses keyboards, sampling, and loops to create future/electronic/funk that tells a story of the future of the global environmentalist movement. On Friday, April 27, DJ Shea Butter will begin the evening, followed by a live set by 23-year-old rising soul singer and songwriter Rayana Jay, who brings velvet smooth vocals and airy harmonies to the stage. DJ Sake One will close the three nights of music programming, setting the mood for headliner Tortured Soul, a group that British tastemaker Gilles Peterson has called "the future of house music."
Music Performance Schedule
Thursday, April 26
3–7pm: DJs Chale Brown and The C.M.E.
7–9pm: Photay
Friday, April 27
5–7pm: DJ Shea Butter
7–9pm: Rayana Jay
Saturday, April 28
5–7pm: DJ Sake One
7–9pm: Tortured Soul
List of Exhibitors and Speakers
Current confirmed exhibitors for the 2018 event include:
Aicon Gallery | New York
Carrie Scott & Partners | London
Chandra Cerrito Contemporary | Oakland
CODAME | San Francisco
Contempop | Tel Aviv
David Gryn / Daata Editions | London
Ed Cross Fine Art | London
G77 Gallery | Kyoto
Galeria Zielinsky | Barcelona
Halcyon Gallery | London
HG Contemporary | New York
Jaus Gallery | Los Angeles
Marpi Marcinowski | San Francisco
McLoughlin Gallery | San Francisco
Neram 2.0 | Zurich
Nick Lynch | San Francisco
Porsche / CalArts | Los Angeles
Priveekollektie | Amsterdam
Puiforcat | Paris
Re.riddle | San Francisco
Roya Khadjavi Projects | New York
Seraphin Gallery | Philadelphia
St. Louis | Paris
Zheng Chongbin | San Francisco
Current confirmed speakers for the 2018 event include:
Academia, Institutions & Community
Roman Kraeussl | Professor for Art-Finance, Luxembourg University and Hoover Institution at Stanford University
Lawrence Rinder | Director, Berkeley Art Museum and Pacific Film Archive
Amanda Horn | Director of Communications, Nevada Museum of Art
Anita Heriot | President, Pall Mall Art Advisors
Jennifer Raiser | Board member and Treasurer, Burning Man Project
Susan Sayre-Batton | Oshman Executive Director, San José Museum of Art
Dr. Jay Xu | CEO & Director, Asian Art Museum of San Francisco
Art, Design & Multimedia Installations
David Gryn | Founder, Daata Editions
Ajay Kapur | Associate Dean, R&D Digital Arts, California Institute of Arts
Nicholas Lynch | Founder, LYNCHINI
Naut Humon | Founder & Director, Recombinant Media Labs
Natalia Bertotti | Artist, Burning Man installations "Totem of Confessions" and "Photo Chapel"
Michael Garlington | Artist, Burning Man
Carrie Scott |Founder, Carrie Scott & Partners
Sara Fitzmaurice | CEO & President, FITZ & CO
Olivier Pechou | VP Americas, St. Louis & Puiforcat
Steffen Ganz | Studio F.A. Porsche - Porsche Design Studio
Tech
Steven Aldrich | CPO, GoDaddy
Drew Bennett | Founder & Director, Artist in Residence Program, Facebook
Satjiv Chahil | Global Marketing & Innovations Advisory / Silicon Valley Advisor, Swarovski
Will Decker | VP Brand & Retail, Plug & Play Tech Center
Jacob Pabst | CEO, Artnet
Maya Razon | Executive Development, Google
Danielle Wohl | Danielle Wohl Art Advisory (big tech)
Christopher Vroom | CEO & Founder, CollectorIQ
Julie Wainwright | CEO & Founder, The RealReal
Cryptocurrencies
Kevin Abosch | Artist / Ontologist / Futurist
Marcelo García Casil | CEO & Founder, Maecenas
Patrick Baron | CEO & Founder, Ambisafe
Jess Houlgrave | COO & Co-Founder, Codex Protocol
Eleesa Dadiani | Founder, Dadiani Fine Art & Dadiani Syndicate
About If So, What?
If So, What? (ISW) is a new art and design event that will bring together leaders in the fields of art, design, music, and innovation to create immersive experiences for visitors. The inaugural edition will take place from April 26-29, 2018 in San Francisco, CA in the Palace of Fine Arts and will feature an international roster of art and design galleries, cutting edge innovation projects, and music experiences. ISW is inspired by the vision to create new and exciting ways for people to engage with art and design and was founded to celebrate the transformative power of art and culture to connect global creative communities.
About the Founders
Sho-Joung Kim-Wechsler is an international finance, art, design, and technology executive who has extensive experiences in building art and design marketplaces, scaling businesses, and leading multiple IPOs in Europe, USA, and Israel. Formerly held positions include Head of Finance, Artsy; Controller/Director of Finance, 1stdibs; Vice President, Private Equity, Fortress Investment Group; and Manager, Transaction Services, Global Capital Markets Group, PwC.
Linda Helen Gieseke is an international senior strategy advisor specializing in business development, sales and growth strategies for multinational companies, focusing on expansion into the US market. Linda Helen Gieseke has an extensive track record of transforming Fortune 500 companies and scaling businesses and holds a number of advisory positions. Her former positions include Project Leader, Boston Consulting Group in Germany, South Africa, and the US; and US Expansion Manager for a leading specialist in photo production and art.
Steering Committee Members
Reiner Opoku, Founder, St. Moritz Art Masters and Parley for the Oceans
Harry Hutchison, Senior Director, Aicon Gallery
Olivier Pechou, Vice President of Tableware and Interior Design Projects, Hermès of Paris
Satjiv Chahil, Silicon Valley Innovations Catalyst, former Member of the Executive Committee, former Global Marketing & Communications at Apple and SVP Global Marketing at Hewlett Packard
Hans Gottwald, Partner, Orlando Private Equity Management
Silicon Valley Supporters and Brand Ambassadors
Alexandria Dembow | PURE Group of Insurance Companies
Alicia Ferratusco | Co-Founder at Starship Space
Andrew Kowalczyk | President & CEO, AK Capital
Anita Heriot | President, Pall Mall Advisors North America
Asim Abdullah | General Partner Global Asset Capital
Brooke Waterhouse | The House of Water
Brendan Rawson | Executive Director, San Jose Jazz
Cyril Delattre | Global Head of Content Operations, Airbnb
Deema Jubran Scullin | Executive Director, JPMorgan Chase & Co.
Dominik Matyka | Entrepreneur & Investor
Eric Profittlich | Global Financial Services, Forescout Technologies
Elizabeth Funk | Founder & CEO, Dignity Capital
Garrett Herbert | San Jose Chair, SPUR and Managing Partner, Deloitte Silicon Valley
Gary Wohl | Executive Coach
James Mister | Investment & Expansion Manager, Bavarian U.S. Offices for Economic Development
Kevin Krieger | Managing Director, Fortress Investment Group
Kim Walesh | Director, City of San Jose Department of Economic Development
Lisa Hurwich | SVP, U.S. Trust Bank of America
Leonardo von Prellwitz | CEO & Founder, Eon
Marcel Hollerbach | Managing Partner, Cavalry Ventures
Miloo Patwa | Managing Director, Acilon Consulting
Mette and Jonas Ottesen | Designers
Dr. Oren Knopfmacher | CEO Avails Medical Inc.
Pamela Mass | Designer
Philipp Fugger | Dolby Family Ventures, Founder & CEO Polarfoxes
Richard Ling | CTO SmartEar
Robyn Shore | President, Bonfire Social Club
Rolf Sachs | Major Collector, Artist and Designer, Rolf Sachs Studio
Rouven Dresselhaus | CEO, Dresselhaus Holdings
Sam Katiela | Owner of Mamemo Productions and Founder of Dubai Beach Polo
Susan Sayre Batton | Executive Director, San Jose Museum of Art
Susan Shin | Susan Shin Advisors
Tad Freese | Board of Trustees, San Jose Museum of Art and Managing Partner, Latham & Watkins
Tal Goldstein | Founder, Tal Design
Taña Maria Recacho | CLIMB Real Estate
Thomas Kicker | SVP Group Business Development and Partnering, Deutsche Telekom
Sponsors and Partners
Sponsors
Porsche
Ruinart Champagne
Ike Kligerman Barkley Architects
Cultural Partners
Artnet
Berkeley Art Museum & Pacific Film Archive
California Institute of Arts
San Francisco Art Dealers Association
San Jose Museum of Art
The Cultivist
Zero1
Innovation Partners
Cavalry Ventures
Plug & Play Tech Center
Media Partners
Artsy
Barneby's
Gentry Magazine
Logistics Partners
ARTA
Sixt / MyDriver
Hotel Partners
Cliff, San Francisco
Four Seasons, San Francisco
Sir Francis Drake, San Francisco
Westin St. Francis, San Francisco
W Hotel, San Franciso
Dates & Location
VIP Preview
Thursday, April 26, 2018, 3pm-9pm
Tickets: $150 - $1,500
General Admission
Friday, April 27 - Sunday, April 29, 2018,12pm-9pm
Tickets: $25 - $145
Palace of Fine Arts
3301 Lyon St
San Francisco, CA 94123
Media Contacts
FITZ & CO / Yun Lee / 646 589 0920 / ylee@fitzandco.art